Exit Panic Bar Service in Chandler, AZ
If you had a fire in your office, or you had any other security threat that required immediate evacuation of your building, how would you ensure that your staff and customers get out of the building fast? Commercial Locksmith Chandler AZ has several solutions for this problem that they would be ready to provide to you to provide you a safe way out in case of an emergency.
We offer you these quality office keys and locks services:

We offer our customers who have this need Exit Door Hardware, which is also called panic bar and can install it quickly when needed. This device is fitted to the inside of the exit doors and has a mechanism that is connected to your security system. If depressed from the inside this bar triggers your alarm system and automatically opens the door outwards. This provides an immediate and efficient way to exit your building in case of any threat.

Exit hardware is required by law in many public building to save lives in case of an incident. If you don't already have this device, we highly recommend that you call us so that our technicians can come and help you or at least review your building and give you some recommendations of the best bar to install. You wouldn't want to imagine of a scenario where people struggled to get out of a building just using one narrow front door. This can be disastrous and should be avoided at all costs.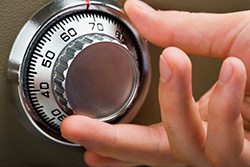 If you are searching for door hardware or are considering having some installed for your business, you will be pleased to know that a local service is available and can come quickly to assist you. We are reliable, efficient and fast in all our services and can get your installations done within the time that you need them. Panic Bars saves lives and may remove the possibility of legal liabilities if people were trapped in your building because you did not provide a safe exit for them.
Home

Contact US
Up to 30 minutes response
No call out charge
Experienced & Qualified
No hidden charges
Fast friendly reliable service
Affordable locksmith prices